High Precision Enlarged Screen(300*300cm)
High Precision Giant Size Screen (300cm x 300cm) was designed for G4 ~G6.5 Touch panel process and 85 inch Light Guide Process, Faithful, Corp. provided the latest special design and concept to break through traditional screen making limitation so that this screen has excellent resistance solvent and abrasion, high dimension stability and accuracy. In order to satisfy your requirements, any kinds of size screen can be customized.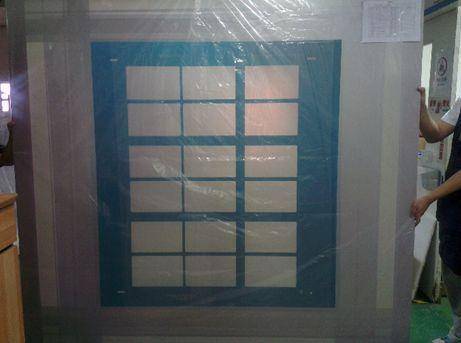 Avaliable Dimension:
G6.5 Touch Panel process

→Screen Size : 3M x 3M

85 inch Light Guide Process

→ Screen Size: 2.5M x 1.5M
The Comparsion of Faithful Screen and Competitors in Taiwan
FAITHFUL
Competitor
High - End Technolgy

Faithful Exclusive Technology (AS Screen) for long life Printing over 10K(Tranditional: 6K)
Faithful Exclusive MP Technology (E-Stensol) for long life Printing over 20K

(Tranditional: 6K)

Faithful Exclusive Technology(BD Process) : Different Emulsion Thickness on the same screen is Available.
Enlarged Size Screen 3M x 3M for G6.5 is Available.

Only 6K Prints
New Technology: N/A
Availalbe Size: 2.5M x 2.5M

Quality

High-End Screen Specification

Tension 30+/-2N
Emulsion Thickness ± 1μm
Total Length Accuracy ± 140μm
Pattern Resolution: HIGH

Tension 30+/-2N
Emulsion Thickness ± 2μm
Total Length Accuracy ± 200μm
Pattern Resolution: LOW

Service

Best Cooperated Company

Assist Customers to develop G5 process. (Success)
Providing the Intergrated Technology to improve customers' process yield and though-put.
Providing the consulting service of printnig technology to customers to speedup the RD developed period.
After-Saies Service:24-hour Service

Acid – Resisting Screen (Design for T/P Etching Paste Printing)
The Comparsion of screen life between Faithful and Competitors:
Intergrated E-StenSol : 8 ~ 20K Prints (Excellent)
SUS mesh + Anti-acid Emulsion : 1.4K Prints
SUS mesh + Tranditional Emulsion : 0.5K~0.7K Prints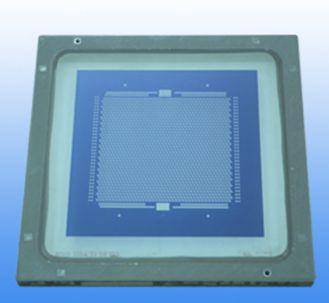 Application:
1. The Etching paste printing in touch panel process.
2. It was cleaned by special cleaner, such as NMP, DMF or any special solvent.

Any kinds of inks will be used in screen printing process and how to select suitable screen are very important. Generally, it will be depended on the customer's process requirements. Especially in Touch Panel Screen printing process, the characteristic of Etching paste is "Corrosive" ink so that the screen will be damaged and emulsion peeled by those corrosive inks and consequently, the screen life time won't be good enough with user satisfied. In view of this, Faithful, Corp. has designed the Acid-Resisting Screen for SiO2 or ITO etching paste in touch panel process, and also resist NMP, DMF and DMAC solvent. It will be improved the emulsion peeling issue and extended screen life time.


Designed for Cover Lens BM used of OGS: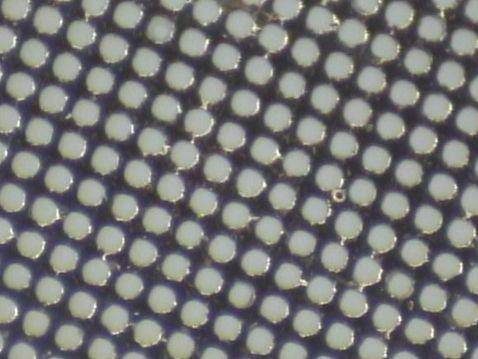 Alpha Screen and Alpha Stencil are high-end and innovated
technology
products which are designed for the high uniformity of printing ink thickness controlled. Those are suitable for the BM printging on OGS prining process.
Advantage:
1. Excellent dimensional stability:
The elongation of α Screen and α Stencil is lower than traditional stainless mesh screen so you can keep high precision pattern after short or long production runs.
2.Ultra-Fine Line Printing:
α Screen consists of the nearly flat metal foil that has a great deal of polygonal holes and the cross section shape of mesh is similar with ellipse, and uniform emulsion coating. So high ink deposits and uniform thickness can be achieved.
α Stencil has the flat metal foil that provides excellent resistance against solvent, excellent process yield, and longer printing life time.
3.Ultra-Thin Printing:
Mesh thickness is 16μm can be achieved that it's suitable to ultra thin printing process.
Application:
1.Acquired for the uniformity of ink deposited thickness is below 3~5um.
2.High deformation stability.

Anti-Static Electricity Screen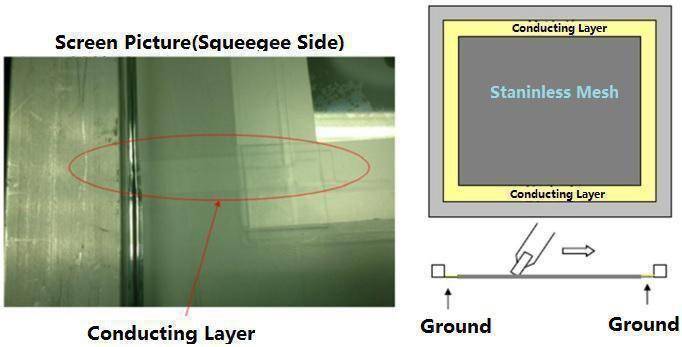 Advantage:
Anti-Static Electricity Screen is designed for solve where customers have the stastic-electricity issue while printing that it will lead the product's failure, will affect the printing pattern deformation and ink exile issue.
Stencil for Dot Spacer and In-cell Touch Sensor used.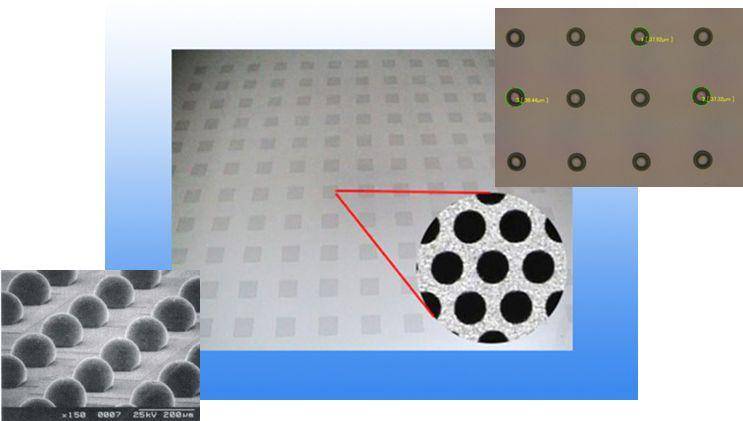 ?From the demand perspective, it is to focus on the small size and high density dot spacer printing, that can be achieved the completed dot shape and uniform ink deposits.
Advantage:
1.This is a mask-less system, it trnasfers the CAD layout to laser machine and writes on the stainless stencil. It doesn't have any
errors within process.
2.Contact printing without any printing errors.
3.Uniform ink deposite.
4.Ink transffering rate is 100%

Innovation N01 – E-StenSol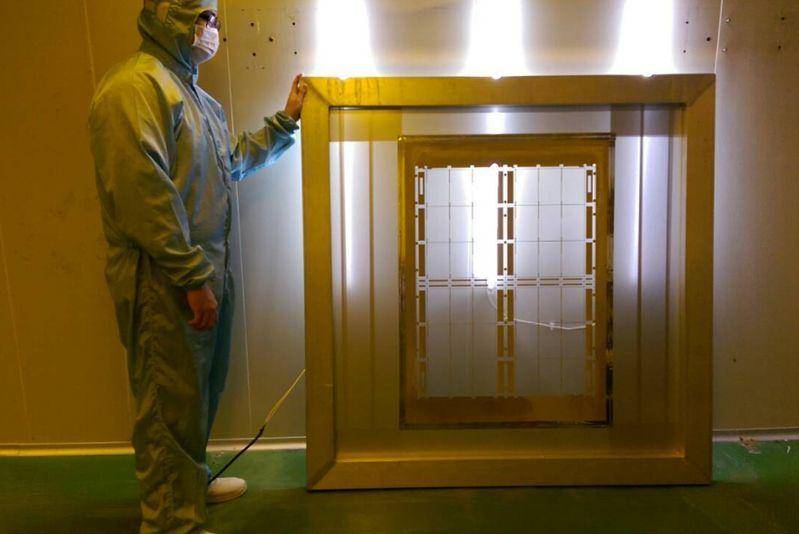 What do we have
Extra-Large Electro-Forming System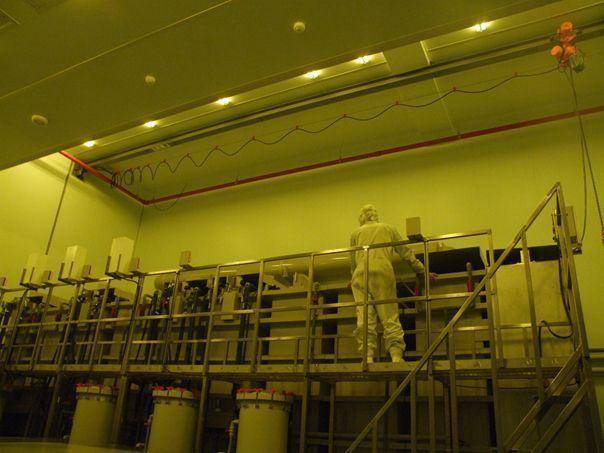 Extra-Large Photolithograpy System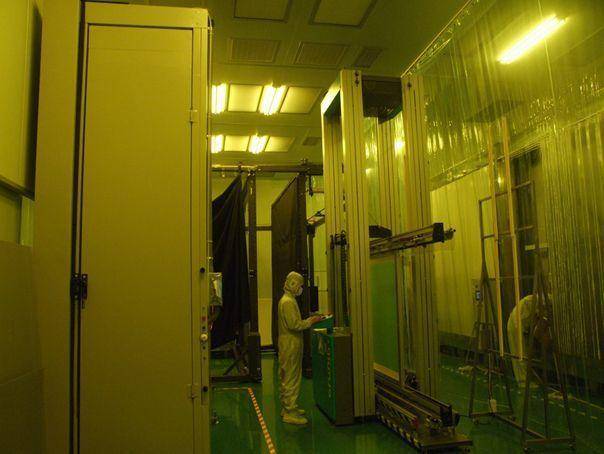 Extra-Large Cleaning System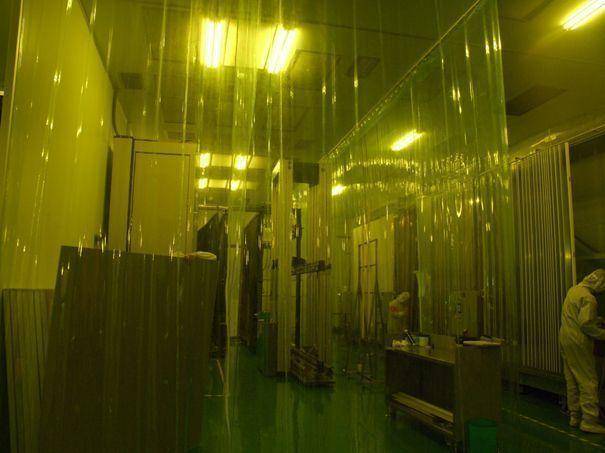 Extra-Large Oven System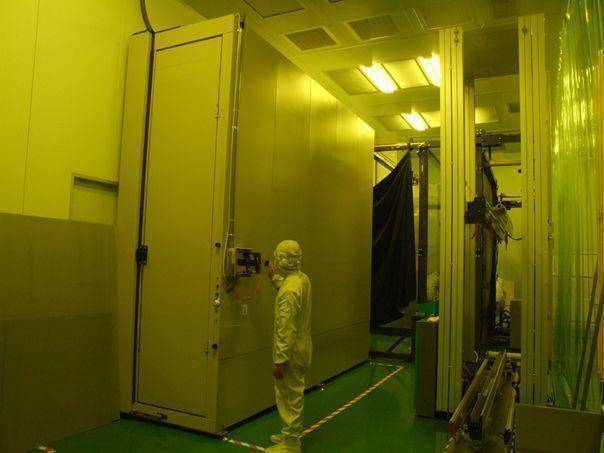 Extra-Large 2.5D Measurement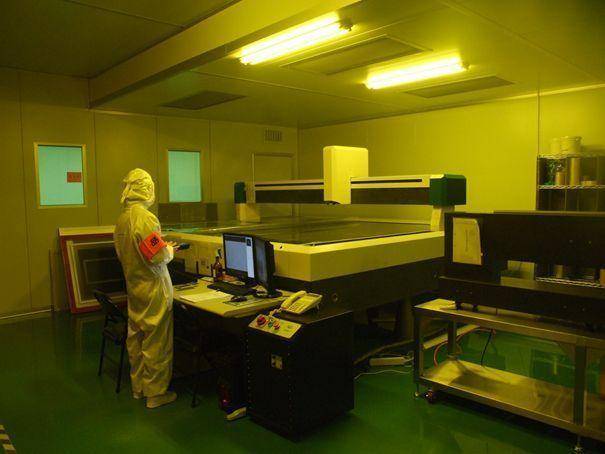 Extra-Large Storage Warehouse and Process Space